About The JAG School
AFJAGS, as the school is informally known, runs 65 in-residence and distance learning courses annually, instructing between 2,500 and 3,000 military attorneys and paralegals each year. Outside AFJAGS, the faculty teaches more than 12,000 current and future leaders during the academic year in the many legal challenges faced by the Air Force and its Department of Defense partners conducting complex world-wide operations in hostile environments with thousands of personnel and billions of dollars in resources.
Learn More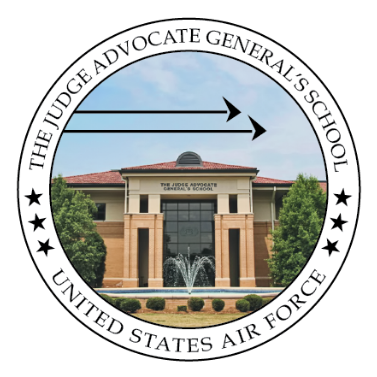 The JAG School is the focal point for the initial and continuing education of all JAG Corps lawyers and paralegals. Training begins here for about 120 new lawyers and 160 paralegals each year at the JAG School's basic courses. In addition to initial preparation of JAGs and paralegals, the JAG School reaches out to many more students each year with specialized courses such as Operations Law, Trial Advocacy, and Environmental Law, and conducts surveys of new developments, interests, and changes in the law.
The dynamic curriculum is frequently adjusted to emphasize the most pressing and current issues faced by JAGs and paralegals in the field, based on recent and expected Air Force operations.
The JAG School occupies a modern facility, completed in 1994, replete with large and small lecture halls, seminar rooms, full size moot court facilities, and state of the art electronics that make world-wide legal education through live broadcasts and interactive seminars a reality. Education is extended not only to Air Force personnel, but to personnel of other services and government agencies. Colocated with Air University, the JAG School supports all Air Force professional education programs in the preparation of future Air Force leaders.
During the summer of 2019, construction began on an expansion to the JAG School. The new building, which is now complete, nearly doubles the available space. The two-story building allows JAS (Information Services) to return to the JAG School on the second floor while the first floor is devoted to classrooms and seminar rooms to keep up with the continuing demand for more courses.
The JAG Corps' mission is to provide the Air Force, commanders, and Airmen with professional, full-spectrum legal support required for mission success in air, space, and cyberspace. The Air Force, like the other Military Services, operates in an increasingly legalistic environment, which demands nothing less than the very best legal capability it can field. The Air Force JAG Corps supplies that demand with its talented and highly trained group of legal professionals.
The men and women of the JAG Corps represent a broad cross-section of America in terms of race, gender, ethnicity, background, and origin. They are united by a commitment to duty and their oath to "support and defend the Constitution of the United States." All military and civilian lawyers are graduates of accredited law schools, while Air Force paralegals and civilian support personnel are hand-picked, thoroughly trained professionals. The active duty force is augmented by an equally professional, committed, and enthusiastic cadre of Reserve and Guard personnel, trained and ready to perform on active duty at a moment's notice.
To learn more about becoming a JAG, click here.
Become A JAG
Click to apply online and learn more about the JAG School program, benefits and legal career opportunities serving the U.S. Air Force, the U.S. Space Force, Airmen, and Guardians.
Learn More